LATTE Boston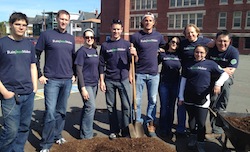 LATTE
Lawyers Accountable To The Earth
Invites You to Make Boston Greener!
Whether you are an individual, attorney, or represent a law firm, we have options for you.
Two Ways To Get Involved!
| | | |
| --- | --- | --- |
| Give Generously! | And/Or | Volunteer! |




Suggested Levels of Giving

| | |
| --- | --- |
| You are: | Suggested Contribution: |
| Individual | $100 or anything you want |
| Small Firm | $500 |
| Mid-Sized Firm | $2,000 |
| Large Firm | $5,000 |





Donate $50 or more and receive a RainforestMaker Mousepad. Donate $100 or more and receive a RainforestMaker Mousepad and T-Shirt!! Please email jeff@rainforestmaker.org and provide Name, Address, and T-shirt size.





Become a RainforestMaker in a Big Way!

We are looking for energetic volunteers.

Helping RainforestMaker and the Earth has great potential to provide you with something you may have been searching for. SOUL NOURISHMENT! The below positions are available for immediate opening on a full or parttime basis.

Tree Planter
Environmental Consultant
Marketing Associate
Web Designer
Web Programer
Event Organizer
Super Interns
Photographer
Writer
Fundraiser
Grant Writer

If you have passion and skills other than what is listed above, let us know.

Please email us your resume at info@rainforestmaker.org
Making Things Happen In Boston
On April 28th we partnered with the Boston Natural Areas Network to plant trees at the former Emerson School, soon to be the Dudley Street Neighborhood Charter School (opening fall 2012). View details and photos of the event.
On May 18th, we are planted trees at the Children Home. Event Details.
On May 19th, are also planting fruit trees on a barren hill side at the Factory Hill Playground in Hyde Park and the fruit will be used for the local community. Event Details.
BENEFITS
~ Share with Boston the public health, environmental, and aesthetic benefits of trees ~
~ Demonstrate your commitment to the community and the planet ~
~ Contribute to Boston's urban forestry initiative ~
~ Provide for essential tree maintenance ~
~ Offset a portion of your paper consumption ~
~ Enjoy recognition on our website and in print ~


Boston Resources
City of Boston's Urban Forestry Initiative
MA Department of Conservation and Recreation Urban & Community Forestry
Residents of Boston can request to have a street tree planted in front of their home or business. Requests can be made by calling the Park Line at 617-635-PARK