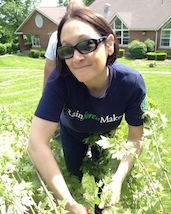 Kiera Lynne Miner
Project Manager
Kiera is currently the Operations Manager for a busy downtown Boston law office and finds the challenges of managing a firm rewarding and inspiring. The skills she has gained from this experience has afforded her other opportunties, such as Project Manager for RainforestMaker and she was recently elected President of the Boston chapter of Toastmasters. Being a good leader is skill that can only truly come with experience and this is something Kiera has in abundance.
Her personal life also challenges her to grow and learn everyday from raising a teenage son to traveling to different countries. Growing up she was the child of an Air Force Sergeant and lived in many states and spent several years in Germany (then known as West Germany). Having the opportunity to see many different places and another culture showed her that there is great big world out there with so many more places to see and experience. In 2003 she climbed Mount Kilimanjaro in Africa and hiked Machu Pichu in 2008, she has also been to the Costa Rican rain forest and the desert coast of Cabos San Lucas, Mexico.
Kiera is a wonderful friend who can be counted on in times of need and to be there just when you want to say hi. This is a rare quality these days when people don't take the time to really connect with other people. She has a knack for creating a team atmosphere and motivating others to give their best. Though she strives to be the best person she can be each day she couldn't do it without the love of her life. Being engaged to the man of her dreams she looks forward to growing with him as her partner, friend and love.
"Live life to the fullest each and every day, respect what you come in contact with whether it is a plant, animal or mineral, as all things are energy and the impact you leave today will be there tomorrow."