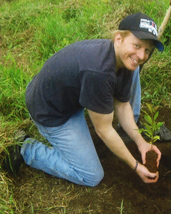 Jeffrey Glassman
Founder
Jeffrey Glassman, Founder
Ever since I was a kid, I've always had a strong connection to trees. It began when I read The Giving Tree by Shel Silverstein at least twenty times. I heard the story of Johnny Appleseed and decided I wanted to be him when I grew up.
Somehow, my path took a different turn and I became a lawyer! But even as I received my finance degree at Syracuse University and my law degree at Suffolk University, I always remembered how I felt when I was in nature. The problem was that I never allowed myself the time to enjoy it. Anybody who works and lives in a city knows what I am talking about.
Then one weekend back in 2001, I decided to purchase a series of meditation tapes so I could reduce my stress level. Believe it or not, running a law firm can be stressful! But instead of purchasing any generic meditation tape, I chose one that seemed to be calling to me. It was called Sky Above, Earth Below by John Milton . The focus was not simply around meditation, but meditating and connecting with nature.
John explains that nature is the greatest of all teachers. Waiting outside your door is a teacher who embodies every higher quality you are seeking. Who, for millions of years, has served as the spiritual wellspring for all wisdom traditions. This living example of a liberated existence is as close as the wind in your face, and the sun on your back.
After listening to only a few minutes, all seemed peaceful. My stress, worries, and contractions completely disappeared. I was inspired to spend more time in nature so I dived right in and embarked on a sacred passage led by John in Baja, Mexico. After receiving John's teachings, I was to spend 7 days completely alone in nature. No music, no books, no people, nothing to distract me except my own thoughts! And I had plenty of them because after 2 days, all this silence was more than a city lawyer could take!
So 5 days before I was to be picked up, I packed up my tent and my overpacked bags and hid them behind a cactus bush. The cell phone I snuck into my campsite had no reception so I hitchhiked an hour and a half across Mexico. When I finally arrived at base camp, there was John. And he was not surprised to see me! I learned it was quite common, especially for city dwellers like myself to have this type of experience. This was because it was the first real time in my life when I had nothing around to distract me. It was an amazing life lesson.
The following year, I got the nerve to try it again. This time I set a goal for myself to spend just 2 days in nature, but not to go completely insane! When I made it 2 days, I decided to stay for 2 more. Eventually, I made it through the entire sacred passage. The experience I had with nature was so meaningful that words could simply not explain it.
Ever since my sacred passage, nature has taught me to be more relaxed, present, and peaceful. It has also provided me wonderful gifts such as energy and compassion. When I travel now, I take special effort to go on nature hikes. And these nature hikes are what led me to Costa Rica.
I visited Costa Rica in 2004. I was awed by it's incredible beauty and just remember feeling the Rainforest was alive! Being there however, I could not help noticing the huge tracts of Rainforest land that had been completely destroyed. While there were obvious financial reasons why someone would cut down the forest, I remember thinking that the person or company who cut it down obviously placed no value on the Rainforest while it was alive. I wished I had the opportunity to give a copy of Natural Capitalism to the person or company that was cutting down the rainforest before they did it. (It is a classic book and part of it explains the true cost of exploiting natural resources and why Rainforests are worth more alive than destroyed.)
Since that time, the rest is history. I have been on a mission to plant rainforests. Some lawyers are referred to as Rainmakers because they make the rain by bringing in the business. I have enjoyed being a successful rainmaker since opening up my law firm. But now it is time to give back to the Earth. It is time to honor the planet we live on. It is time to become a RainforestMaker. I hope you join me.