Projects
Costa Rica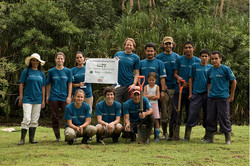 Currently, we are planting trees in Southern Costa Rica near the Osa Peninsula.
The Osa Peninsula is one of the most biodiverse places on Earth.
This is because the Osa was once an island that joined with mainland Costa Rica.
The Osa contains over 3,100 species of plants, many of which have been newly discovered.
The Osa contains 750 species of trees, 124 species of mammals, 117, species of amphibians and reptiles, 40 species of freshwater fish, and 6,000 species of insects.
Many of these species are found nowhere else on Earth or even in Costa Rica. This is a very special place.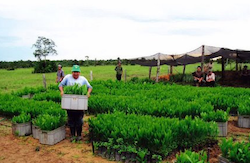 In conjunction with our LATTE initiative and in partnership with the Marion Institute , RainforestMakers are journeying to Las Gaviotas to plant 16,000 trees. The eco-village known as Las Gaviotas is a research center located in eastern Colombia, South America. It is the only project in the world with a twenty-three year track record of the sustainable regeneration of tropical rain forest. As of this year, Las Gaviotas will have successfully reforested 8,000 hectares (20,000 acres) of fully canopied, poly-culture rain forest
Sacred Passage
Immerse yourself in nature by embarking on a Sacred Passage. Click here for full details .
Click here for a full schedule .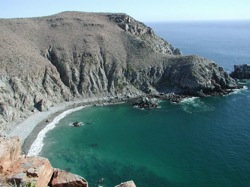 Experience our unique Awareness Training
Experience Liberating, Enlightening Source within
Clarify your life's higher purpose
Increase your deepest levels of creativity
Generate abundant internal power and vitality
Master profound relaxation and presence
Open your inner peace and tranquility
Discover your natural simplicity
Realize your essence
Commune deeply with Nature
Experience the natural joy inherent within you
Brazil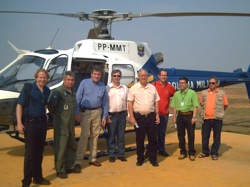 RainforestMaker initiated dialogue and invited Governor Blairo Maggi of Mato Grosso in Brazil and the co-founder of Green Peace, Dr. Patrick Moore to discuss achieving a balance between nature and the abundant need of land used for food production. Click here for more details.
Boston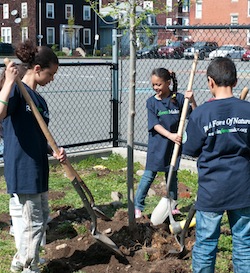 On April 28, 2012 we partnered with BNAN (Boston Natural Areas Network) to plant trees in Roxbury, MA at the former Emerson School, soon to be the Dudley Street Neighborhood Charter School (opening fall 2012). Click Here to Check out the Event.
On May 18th, 2012, we partnered with Foundation for a Green Future and planted mature beautiful October Glory Maple Trees at the Italian Home for Children in Jamaica Plain, which provides services to emotionally disturbed youth. Click here to check out the event.
On the very next day, May 19th, 2012, we planted two dozen apple trees at the Stony Brook Reservation in Hyde Park in partnership with the Boston Natural Areas Network. Click here to check out the event.
On October 27th, RainforestMaker partnered with the Marion Institute for their Connecting for Change Bioneers By The Bay Conference and sponsored an Apple Orchard Giveaway.
India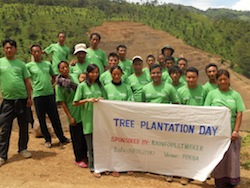 On June 30, 2012 Rainforestmaker planted 250 Khaboo trees and 50 Orange Trees in the Chakhesang community of the Porba Village of Nagaland, India. This is an area that has experienced considerable deforestation.
Coming in 2013
Lots of more plantings!!!!!